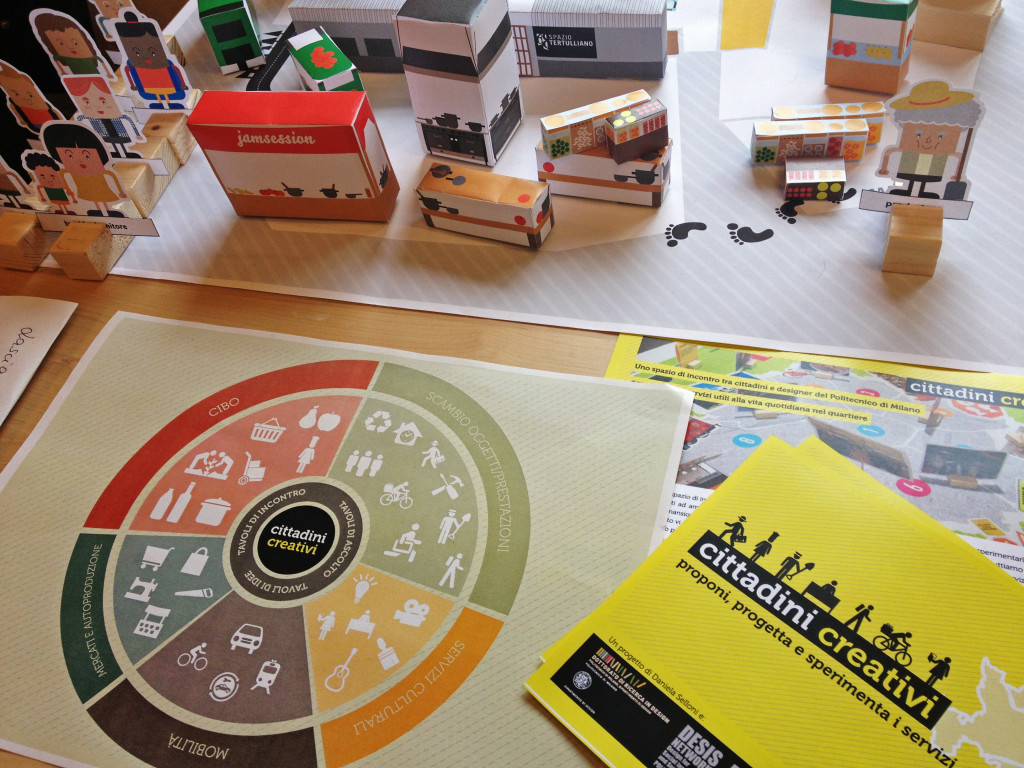 Cittadini Creativi è un progetto nato all'interno del Dottorato di Ricerca di Daniela Selloni al Politecnico di Milano, nell'ambito del design dei servizi.
L'obiettivo è creare uno spazio di incontro tra cittadini, designer, istituzioni e attori locali, un contenitore per coprogettare e coprodurre servizi per la vita quotidiana nel quartiere. Il progetto è ospitato da Cascina Cuccagna e ha una specifica applicazione territoriale nella Zona 4 di Milano.
Cittadini Creativi si basa su un programma di appuntamenti settimanali, per raccogliere idee e sperimentarle in ambiti differenti: il cibo, gli oggetti che usiamo ogni giorno, le competenze che sfruttiamo per risolvere problemi burocratici, mansioni domestiche ecc. Ogni sessione è caratterizzata un allestimento temporaneo per simulare situazioni di servizio da testare, migliorare o cambiare secondo i metodi della ricerca del design dei servizi.
Il progetto ambisce a creare un nuovo formato di intervento e collaborazione nelle nostre città, un struttura a supporto dell'attività di progettazione, che può essere a tutti gli effetti definito come un fab-lab di servizi. In questo luogo, i cittadini, veri e propri service-thinkers e service-makers, autoproducono i servizi di cui hanno bisogno, operando in una zona ibrida a metà tra pubblico e privato, mercato e società, amatoriale e professionale, profit e nonprofit.
I servizi progettati all'interno Cittadini Creativi sono quindi delle potenziali forme di secondo welfare o delle possibili nuove imprese sociali: la fase di sviluppo è tuttora in evoluzione. Lo stesso vale per lo studio del formato di intervento: allo scopo di approfondire il modello "fab-lab di servizi" è attualmente in corso una mappatura di laboratori, agenzie, spazi di coprogettazione e coproduzione presenti nel mondo.
Creative Citizens originates within the Ph.D. research of Daniela Selloni at Politecnico di Milano, in the field of service design.
The main objective is to create a meeting space among citizens, designers, institutions and local stakeholders, a container to codesign and coproduce services for daily life in the neighbourhood. The project is hosted by Cascina Cuccagna and has a specific application field: Zone 4 in the city of Milan.
Creative Citizens has a programme of weekly meetings, collecting and experimenting ideas in a series of sessions dedicated to different areas: food systems, the objects we use everyday, the skills we need to solve bureaucratic problems, the domestic tasks that we have to carry out and many other activities.
In each session there is a temporary set design to simulate service situations in order to test or modify them, using methodologies and tools coming from service design research.
The project aims to develop a new format of intervention and collaboration in our cities, a dedicated entity to support codesign activities, which can be defined as a "fab-lab of services". In this place, citizens are veritable service-thinkers and service-makers, because they literally produce the services they need themselves, that are in a hybrid area in between public and private, market and society, amateur and professional, profit and no-profit.
The services originated within Creative Citizens project are indeed potential forms of second welfare or possible new social enterprises: the development phase is currently on going.
The research is also deepening the format of intervention: focusing on the model of "fab-lab of services", a mapping exercise is currently carried out to explore other typologies of labs, agencies, codesign and coproduction places around the world.