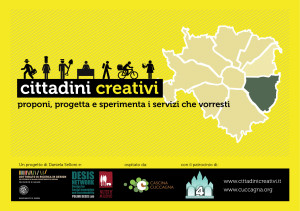 Cittadini Creativi nasce all'interno del Dottorato di Ricerca di Daniela Selloni al Politecnico di Milano, nell'ambito del design dei servizi.
La scintilla iniziale è quella di portare la ricerca fuori dalle università e dentro la società, mettendola in contatto diretto con la città e i suoi abitanti, proprio in un luogo simbolo dell'attivismo milanese, la Cascina Cuccagna in Zona 4. Quest'idea è accolta all'interno bando per l'assegnazione temporanea degli spazi della Cascina, presentando un programma focalizzato sulla progettazione partecipata tra designer e comunità locali, usando gli strumenti della ricerca del design dei servizi.
L'obiettivo è creare un contenitore di servizi co-progettati, che potrebbero poi inaugurare un'inedita collaborazione con il settore pubblico oppure trasformarsi in nuove start-up di servizio, gestite dai cittadini stessi che diventano così imprenditori sociali.
Cittadini Creativi vuole essere spazio di incontro tra cittadini e designer del Politecnico di Milano per raccogliere idee e sperimentarle in una serie di appuntamenti dedicati ad ambiti differenti: il cibo, gli oggetti che usiamo ogni giorno, le competenze che sfruttiamo per risolvere problemi burocratici , le mansioni domestiche che dobbiamo svolgere e molte altre attività che si possono trasformare in servizi ben progettati. In ogni appuntamento vi sarà un allestimento temporaneo per simulare situazioni di servizio: si tratta di un percorso di partecipazione leggera e creativa, proprio perché tutti possono diventare "designer della propria vita quotidiana", almeno per qualche mese, divertendosi.
Il progetto ha il patrocinio del Consiglio di Zona 4 ed è sostenuto da vari attori del Politecnico di Milano: il Dipartimento di Design, il Dottorato di Ricerca in Design, il POLIMI DESIS LAB appartenente alla rete internazionale DESIS network e il progetto Nutrire Milano, in collaborazione con Slow Food Italia, Politecnico di Milano, Università di Scienze Gastronomiche.
Cittadini Creativi originates within the Ph.D. research of Daniela Selloni at Politecnico di Milano, in the field of service design.
The initial idea is to carry out research outside universities and bring in the society, in a direct contact with the city and its residents, specifically in a place which is a symbol of Milanese activism: Cascina Cuccagna, a farm-house located in the heart of "Zona 4″. Cittadini Creativi applied to the call for the assignment of temporary spaces in the Cascina, presenting a program focused on participatory design between designers and local communities, by using the tools of service design research.
The main aim is to generate a collection of everyday services co-designed and co-produced with the active participation of city dwellers, envisaging a possible intersection with the public sector, enhancing a novel form of welfare and the birth of original service start ups, run by the people themselves, that will become social entrepreneur
Cittadini Creativi is a reference point for citizens and designers, collecting and experimenting ideas in a series of sessions dedicated to different areas: food systems, the objects we use in the daily life, the skills we need to solve bureaucratic problems, the domestic tasks that we have to carry out and many other activities which could be developed in "well-designed services".
In each session there will be a temporary set design to simulate service situations: it is a light path of creative participation, precisely because everyone can become "designer of his daily life", at least for few months, having fun.
The project is powered by the Council of Zona 4 and it is supported by several actors within Politecnico di Milano: Dipartimento di Design (design department), Dottorato di Ricerca in Design ( Design Ph.D.), POLIMI DESIS LAB (within DESIS network) and the project Nutrire Milano, in collaboration with Slow Food Italy, Politecnico di Milano, Università di Scienze Gastronomiche.